TRACKING & REPORTING ON SHIPMENTS
Supply Chain Visibility and Capturing The Data that Matters
Tracking inbound and outbound freight helps you proactively manage issues and customer expectations. Analyzing your shipment data helps you plan ahead. You need both.
Freight Tracking and Reporting
You simply must analyze your business processes to grow. There is no way to know what needs to change if you don't set benchmarks and evaluate your success. When it comes to shipping, both inbound and outbound, inefficiencies impact customer service and carrier relationships, and can lead to lost sales or higher costs. Transportation management systems that can make tracking and reporting easy are cost-effective for any business.
Tracking parcel and freight is no longer a matter of simply tracing where items are from carrier notifications. You can now track inbound raw materials or outbound goods in real-time and make decisions to keep a proactive upper hand in meeting and managing customer expectations.
Investing in technology to allow greater visibility, and therefore better control, can also lead to some cost and time-saving benefits, such as allowing customers to track shipments on a self-serve basis. Some shipping software allows your team to view orders in a dashboard configuration so you can quickly see inbound and outbound shipments to enable troubleshooting. Some software also allows automatic email notifications to customers or 3PLs possible based on triggers you set up - such as an automated notification letting a customer know a shipment is experiencing delays.
Inventory Control
In today's commerce environment, you need to minimize backlogs. Backlogs or back orders used to be a merchant standard, but today's shoppers have far too many options. The item they seek may be found just a quick google away.
Your first step in ensuring greater inventory control is to set up a system using scanner technology to maintain real-time data on stock levels. This system should include smart alerts that notify when replenishments need to be ordered. These alerts should consist of projections based on item order history, seasonality considerations, and how long items take to receive from your supplier. A warehouse system that gives you this kind of visibility also generally offers a way to set up triggers, so stock is automatically ordered without human involvement required.
Your system should integrate your WMS/ERP to all of your order channels. This allows customers to see that only a limited number is left (which encourages them to buy) and also lets the customer know when something is not available, avoiding a back order scenario.
Leverage Data To Be Proactive
Too many small and midsize businesses are still using heavily manual processes to track orders. Without automation and shipping software, businesses can have difficulty in even knowing if an order has been scheduled or delivered. These businesses are limited in how they can assist customers, troubleshoot issues, and they encounter more shipping penalties than those with modern shipping tools.
Another example of how tracking data can help business leverage is with third-party (3PL) businesses. 3PLs can take their tracked data over a period of time and convince their customers to use their contracted carriers and shipping rates. By proving carrier service levels and showing a tracked history of what their savings would be over a period of time, those customers are far more likely to use the 3PL or broker's rates.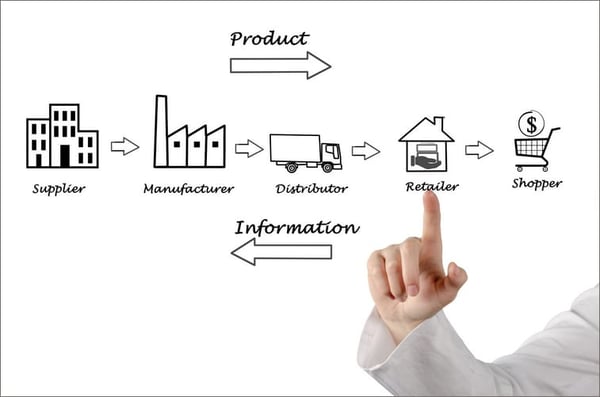 Multimodal and Intermodal Tracking
Shipping across transport modes is referred to as either multimodal or intermodal. Multimodal is when the same carrier is contracted with throughout the entire journey of the parcel or freight. Intermodal is when multiple carrier contracts are involved covering various legs of the journey.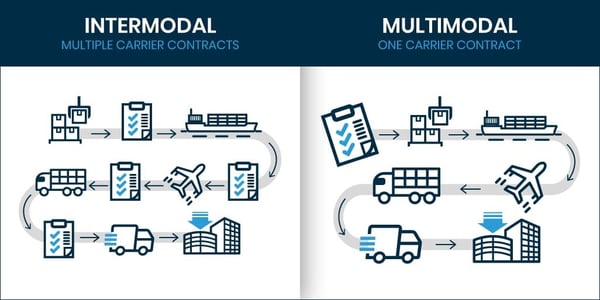 In terms of staying on top of shipments, multimodal is usually the easiest way to track as there is only one carrier to follow up with. Shippers often select intermodal options due to cost, service quality, and in situations where they require flexibility.
If your business frequently ships either multimodal or intermodal, you'll need to select shipping software, or a TMS, that can keep up with tracking multileg shipments - not all of them are capable! Some TMS systems are also capable of providing automated truckload tracking and offer broker dashboard functionality, whereby 3PLs can log into your software and track shipments they are involved with. If you ship a lot of intermodal shipments, having additional tools to track quickly will save your team time and give you greater control.
Proactive Alerts/Notifications
Real-time altering and automatic notifications help you do several critical things, such as:
Make routing decisions based on real-time information

Keep customers as satisfied as possible, even when delays occur

Alert warehouse teams of incoming shipments that may require bottleneck troubleshooting

Stay on top of inventory with greater accuracy
The TMS solution you use should give you a range of options for proactive alerts and automatic push notifications. Some TMS platforms even allow user-defined alerting, enabling you to curtail internal messages and external customer service emails/texts based on specific triggers.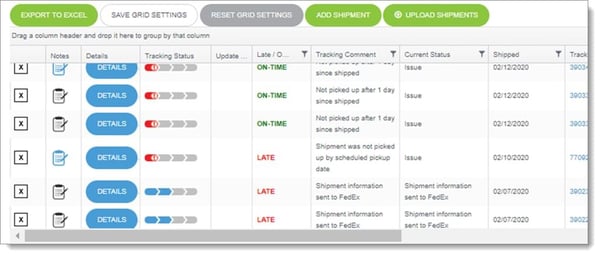 A solid TMS should give you real-time alerts, which will save your team hours on manually checking status updates on carrier sites. Real-time alerts make responding to customer queries more efficient. A dashboard with red flag notifications is extremely handy as well if you ship in considerable volumes. These tools keep your team working proactively.
When creating notification messages for customers, keep in mind the typical concerns buyers have after they place an order. They want to know how to track an order, so give them a link. They want to know how long an order might take to reach them, so provide them an estimate. They want to know how to return orders, so ensure this information is readily available to them in the order confirmation email.
Alerts and notifications not only make processing orders more efficient and less time consuming for your team, but this leads to a better experience for customers. Proactively communicating with them gives them a better shopping experience overall. This effort leads to customers being more patient with you when things go awry and helps cultivate loyal customers.
Customers tend to be less patient during the returns process than they are during the purchasing process, so it is vital to treat returns with as much importance as processing orders. Make sure your team understands this. Establish a clearly defined returns process that you communicate to customers at the time of purchase and during the returns process.

Making use of automated notifications so you can keep customers in the loop on the stages of the returns process - confirmation on return request, confirmation that returned product has been received, and confirmation when monies have been credited back. You can learn more about creating a returns process in our Digital Connectivity For Freight & Shippers Guide.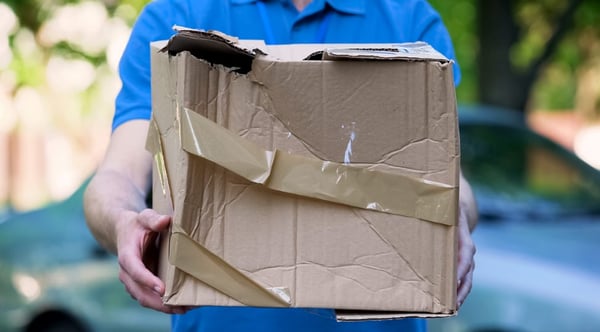 Logistics and Supply Chain Reporting
The Power of Analytics

To understand how powerful analytics can be in your shipping spend analysis, consider Gartner's model for analytics maturity, as seen below.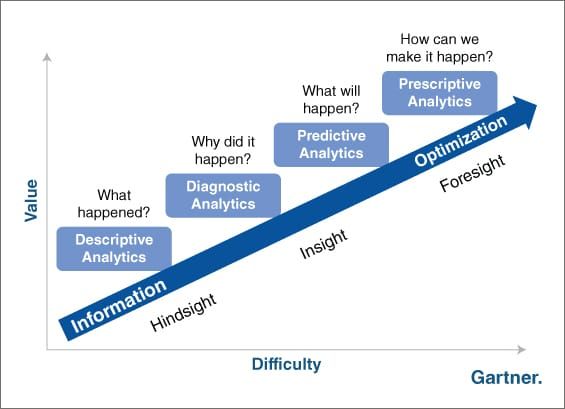 When using analytics to evaluate aspects of any business, the goal should be to eventually get to the point where you can predict what will happen to control outcomes, rather than relying on responding to situations as they come up. Prediction gives you better control and usually avoids unnecessary spending in troubleshooting issues.
Gartner's analytics maturity "journey" breaks the point from reflection all the way to prediction into four steps.
Descriptive Analytics - This is the hindsight view you have when looking at reports that reveal plans, goals, execution, and results. This is the first step on the journey to analytics maturity.

Diagnostic Analytics - This step dives into the whys and hows of report results. It looks at how certain factors relate to outcomes.

Predictive Analytics - This insightful step looks at historical results to paint a picture of where new or different scenarios or actions may potentially lead.

Prescriptive Analytics - This last step is the final optimal step for business. This is where many points of data are analyzed and focused on what is most likely to happen. These indications give business a degree of foresight when they make planning decisions.

In analyzing shipping spend, you want to get to the point through the types of reports and benchmarks you are setting to predict the kind of results you will have in many of your shipping choices.
Analysis helps you better understand:
Should you be selecting certain carriers for particular jobs?

Are you using the right mix of distribution centers?

What additional fees are being charged last year compared to this year?

Is there data you can use as leverage in your next carrier contract bidding?

Is my staff shipping to the established criteria?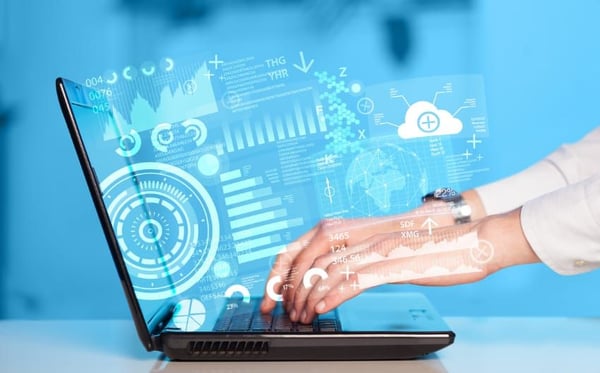 Insight into your supply chain in real-time, from carriers to customers, should be your goal. The competitive benefits include:
Making informed business decisions

Identifying inefficiencies and cost savings opportunities

Troubleshooting inbound and outbound shipping and routing issues

Resolving customer queries faster

Learning more about how your shipping spend is distributed across your carriers.

Evaluating data from your modes or lanes

Breaking down information on your shipments and comparing it against historical data.

Analyzing carrier performance - rates & delivery analysis

Generating reports instantly that you can share throughout your team/organization

Analyzing individual staff/team performance

Analysis Across Your Shipping Channels
Before you begin, you need to use shipping software or a TMS solution that allows you to look at results across all the shipping channels: Parcel, LTL, FTL, Air & Ocean (International or Domestic), and Intermodal. Analyzing across modes can help you negotiate better on future carrier contracts, among other benefits.
Analyzing across the modes you ship also puts you in a better position to negotiate shipping rates. Understanding all the options available to you on major shipments will help you put together and negotiate all the modal combinations. Looking at other modes as an option can reveal cheaper options. As we covered in our Freight & Shipper Optimization Guide, often businesses do not even entertain the option of switching modes, but then after looking at historical data, they find the option can save them considerably.
Each business is unique, and the ability to customize reports is a must. Reports should speak to your established benchmarks and KPIs - and communicate concisely and visually to management and other key stakeholders. Standard reporting tends to give only surface-level data.
With custom reports, you can:
Show a complete picture of your supply chain, from inventory to delivery


Report on your team's benchmarks - their personal success factors

Add filters and conditional statements to highlight preferred data points

Better manage carriers

Better aid your logistics team to make informed freight decisions
Remember, there is power in analytics. The more the information captures and expresses exactly what is going on in your business, the more powerful and influential the reports and analytics will be for your business. For that reason, a good TMS will offer ease of customization and configuration.
Spot quotes are off-the-cuff requested rates made on FTL shipments (although occasionally on parcel) for shipments that fall outside a shipper's regularly used shipping lane or outside all current carrier contracts. These shipments are often of considerable size or have unique handling requirements.
Being able to report on carrier responsiveness and volumes shipped through spot quoting can help you with future contract negotiations and general carrier intel.

Generally, spot quotes cost more than shipping through regular contracted rates, so monitoring spot quotes this can help in managing costs. Additionally, the goal in reporting and using analytics is to get your business to the point where you are monitoring performance across your entire shipping process, from carriers to employees. And this includes keeping an eye on your spot quotes to enable you to catch inefficiencies, spot money wastage, and maintain a clear, overall view of your entire supply chain.
For more information on spot quotes, please refer to our post 3 Tips To Get The Best Spot Quotes.
Provide Simpler Processes
The first step in using reporting to manage staff better is to make sure you are capturing the right data. You need a robust Transportation Management System (TMS) that can automatically grab the data you need and then let you quickly generate reports that make sense. (We offer tips on what to look for in a TMS in our 5 Must-Haves - A Buyer's Guide To Shipping Software.)
An added benefit of a TMS solution is that it significantly simplifies the carrier rate shopping hassle and, with the right system, automatically generates NMFC classifications and shipping paperwork (BOLs, packing slips, etc.). A TMS makes it easier for staff to execute the entire ordering and shipping process efficiently with limited errors.
Ensure Internal Compliance
Benchmarking and setting KPIs helps you identify areas for improvement. With the right TMS reporting options, you can gain valuable insight that will help you set benchmarks, review employee performance, and balance employee workloads.
Types of employee reporting can include:
Volume of Shipments Per Employee

Selection of Cheapest Carrier Per Employee

Lowest Quote Shipping Compliance Report

Proactive Reporting

Automate the process to ensure employee accountability is measured

Reactive

Ensure business rules are met and that employees are making the appropriate data-driven decisions
A good TMS solution will also allow you to weed out the justifiable reasons that the lowest shipping quote was not selected.

Valid reasons for not selecting the cheapest carrier include:
A regular customer may not want a specific carrier used/or prefers a particular carrier is only used

A customer's requested delivery turnaround may not match the cheapest carrier

The cheapest carrier available may have a poor service rating
When evaluating staff on shipping spend, your TMS needs to help you readily ascertain the reasons carriers were selected so you can weed out legitimate situations.

Conclusion
With today's IoT integrations and amazing TMS solutions available, tracking and reporting should not be daunting, avoided, or too expensive for small and midsize businesses. In fact, smart business processes of having nearly 100% visibility into your entire supply chain, as well as the tools to set benchmarks and KPIs and generate analysis reports are thankfully available now. Customers have so much more choice on where they buy goods, and they have insatiable delivery appetites. Thankfully there are tools to help all businesses that ship to stay competitive.