Ship LTL, Truckload, Parcel, Ocean, & Air in One Click
Quickly and easily manage parcel, LTL, FTL, and International shipments
Combine Transport Shipping
Manage Parcel, LTL, FTL and International in one system
If your goods need to be shipped with at least two different modes of transportation, it can be a hassle in other systems. But not with FreightPOP! Simply enter your shipment details and choose your modes, or let FreightPOP suggest your best options for automated multi-leg shipping.
Automate Shipping Processes
Create and print documents and more
No more entering data in multiple systems, or handwriting instructions. With FreightPOP, all the documents and details are kept together with your shipment.
Automatically print labels, invoices, and BOLS
Simplify return shipments
Create rules to help business users follow corporate policy
Attach documents
Create HAZMAT shipping support documents
Autopopulate NMFCs and commodities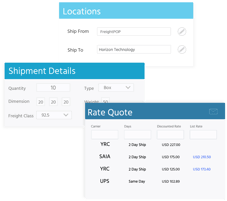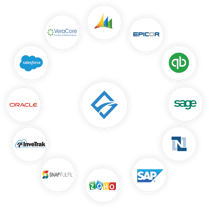 Integrate Efficiency
Integrate your shipping software with your other business systems
FreightPOP connects to the business critical software you already use. More than 300 pre-integrated solutions for:
ERP
WMS
Inventory systems
CRM
Because FreightPOP has a bi-directional sync, shipment data like tracking information, costs, shipment details and other relevant data are also RETURNED to your business systems. Customer service, accounting, and other teams will have real-time accurate data without data entry to better serve customers and create efficiencies.
Batch Shipping
Hundreds or thousands of shipments in minutes
If you're sending shipments all over the world, batch shipping could save you money and time. Simply upload your address list and your shipment details and you'll find the lowest cost options available. Then complete your batch shipment with a single click.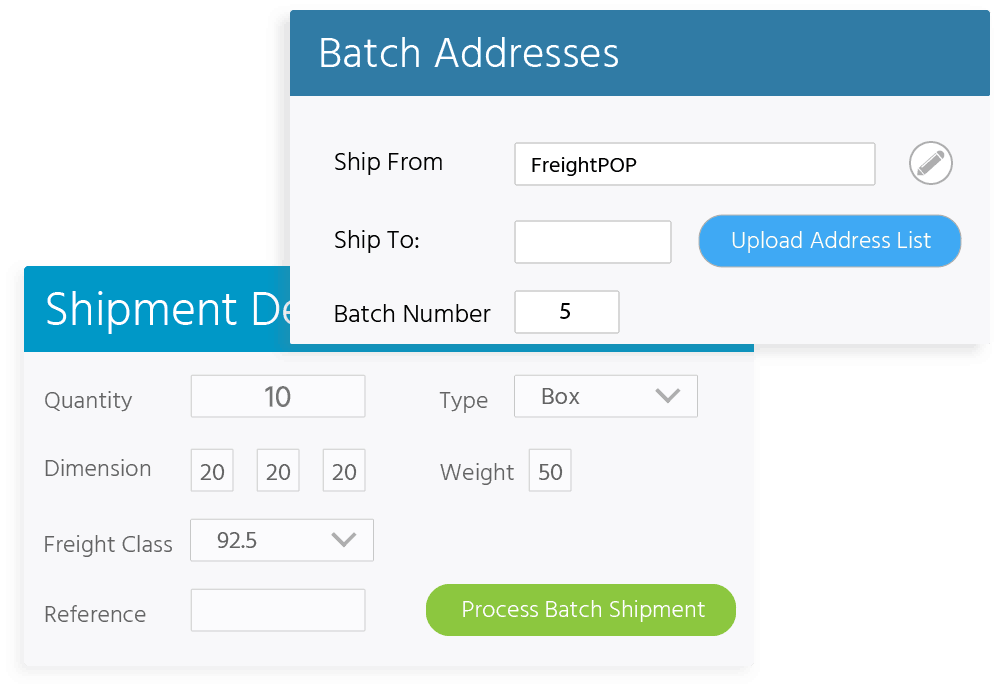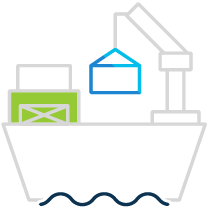 Package and Pallet Optimization
Automate recommendations for package and pallet efficiency
Now you can find the best way to organize pallets or truck loads.
The FreightPOP system understands your product master and your associated shipping materials like boxes and pallets. Once you enter your shipment's dimensions and weight, FreightPOP's automated calculator will tell you exactly how best to arrange them to get the best rates. Besides saving money, your team realizes additional benefits:
Your Warehouse team has the best instructions for efficient packing
Quotes are more accurate - consistency in cost from quote to ship
Helps normalize your ordering process if you don't have a WMS or ERP
Speeds scanning and approving of multiple items in an overall shipment
Reduced freight penalties and labor to correct shipping errors